North Carolina Custom Modulars is having an open house on June 21 & 22 from 9am-5pm with free food and amazing door prizes! Summer marks that magical time of year when we usually have a little more time for ourselves. Summer time is all about independence, the summer vacation when we make ourselves the focus rather than our jobs, with the jewel of summer being the 4th of July.
As Americans we are born with independence running through our veins. It's our heritage and our birthright! Now is the time to take a stand, invest in your future and claim your independence from paying off someone else's mortgage, and we here at North Carolina Custom Modulars want to see that dream come true.
Stop by and see us at 1936 US Hwy 64 E in Asheboro, NC or call ahead for an appointment (336) 610-5150. We look forward to helping you live the life you were meant to.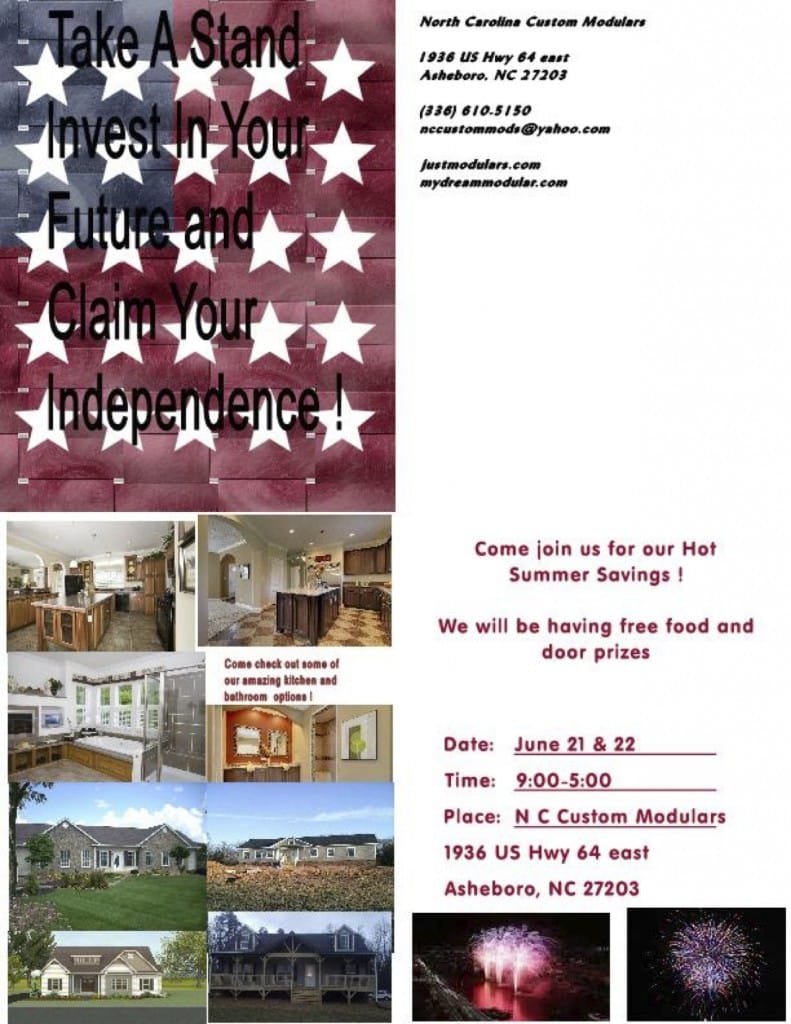 We here at North Carolina Custom Modulars have homebuilding down to a science. We all work as one team, from our design specialists to our building professionals, and even our material sources.  This is why we are able to complete your new dream home in a fraction of the time it takes traditional homebuilders, sometimes as little as three months.
 The North Carolina Custom Modulars' family has over 20 years of combined experience in the housing industry. Our mission is to be committed to our customers by helping you successfully plan, design, and construct your new modular home making for a stellar home buying experience because your dream is our dream.